Barbecued Leg of Lamb
by Ken Lightburn on 01/29/18
Incredibly fancy, yet very easy to prepare, this dish will wow any guest. The first time we prepared it, it was for Easter. We ordered a beautiful piece of New Zealand lamb from our local supplier and was very excited to do the animal right with this recipe. The outcome was everything we could've hope for- tender licking good with the perfect balance of the natural lamb flavor, herbs and seasonings.
If you tried this recipe, we'd love to know how it turned out. Please comment below.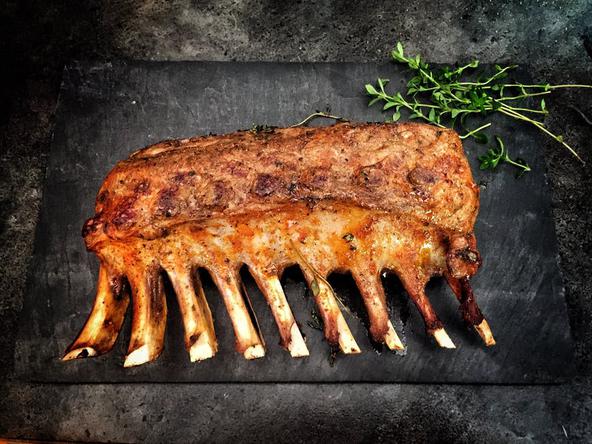 8 servings
Ingredients:
1 cup dry red wine of your choice
3/4 cup soy sauce
5 large garlic cloves, crushed
1/2 cup chopped fresh mint
2 tablespoons slightly bruised fresh rosemary or 1 tablespoon dried
1 heaping tablespoon coarsely ground black pepper
4 to 5 pounds leg of lamb
?
Directions:
1. In a non corrodible baking pan, combine the wine, soy sauce, garlic, mint, rosemary, and pepper and pour over the lamb.
2. Refrigerate covered for at least 6 hours (overnight is good), turning the lamb frequently.
3. Prepare hot coals for barbecuing.
4. Drain the meat but reserve the marinade. Barbecue the lamb for about 20 minutes on each side, basting frequently with the marinade. Check the lamb for doneness frequently after 30 minutes' grilling (meat thermometer helps.) Cut into very thin slices and serve immediately.