Lamb Biryani
by Ken Lightburn on 01/29/18
Indians' love of lamb rival any gastro-ethnic group. This lamb biryani is a delicious, paleo-friendly take on classic Indian biryani by adding succulent lamb. Using New Zealand lamb is especially good because of the extra tenderness the variety is famous for over other regional lamb varieties.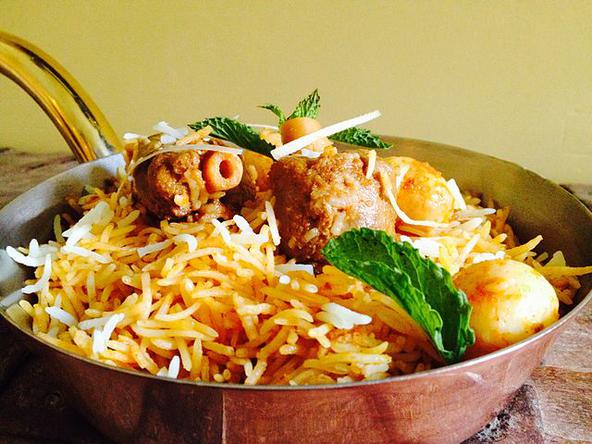 Ingredients:
500 gms of lean ground lamb or lamb short ribs
1 medium white onion, diced
3 cloves of garlic, minced
1 can of whole tomatoes, roughly chopped
A bunch of green beans, cut into 2 inch pieces
1 tsp of paprika
1 1/2 tsp of cumin
1/2 tsp of chili powder
1 cinnamon stick
A handful of fresh mint, cilantro & parsley, finely chopped
Juice of half a lemon
1 1/2 tsp of sea salt
1 1/2 cups of basmati rice
Scant 3 cups of water
2 Tbsp of olive oil
?
Preparation:
1. Cook the basmati rice with just under 3 cups of water in a rice cooker. If you are cooking rice on the stove, place it in a pot with the water and bring to the boil. 2. Turn the heat down and cover the pot. Cook the rice for 10-12 minutes or until done.
3. Once the rice is ready, put it straight in the fridge so that it cools down and dries out.
4. Saute the onion in a medium saucepan over a moderate heat until translucent. Add the garlic and fry for 1 minute.
5. Add the spices including the cinnamon stick and fry for 2-3 minutes to release the oils. Stir well.
6. Add the ground lamb or lamb ribs. Stir well to coat lamb in the spices. Add the salt. Lower the heat slightly and cook lamb for about seven minutes for ground lamb or ten minutes for the ribs or until browned.
7. Add the chopped canned tomatoes and about 300ml of the sauce from the can. 8. Stir well and then add the green beans.
9. Cover and simmer on a low heat for 25 minutes.
10. Carefully combine the lamb mixture with the rice and mix thoroughly to coat it.
11. Squeeze some lemon juice over the biryani and stir well.
12. Sprinkle with fresh herbs and serve immediately.
(recipe courtesy of about.com)